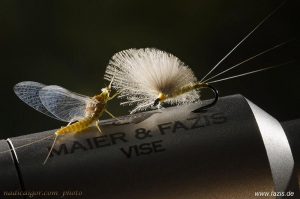 During almost three decades of professional fly tying, we have used numerous tools. One of the best vises we had chance to try is Maier-FAZIS vise. It is German product which has all possible functions that could need professional and commercial tier. Every detail is beautifully designed with focus on the function.
High grade steel used for the components ensures you'll be tying flies for years to come. It handles hook sizes # 32 to 8/0. Full 360° rotary, it rotates very smooth without any imbalance.
The shaft of the vise is tiltable backwards and forwards .This is great advantage if you need more space on the left side, for example when tying the tails etc.
The bobbin hanger is fully adjustable in height and length. The base plate provides a secure, stable platform for tying most anywhere.
All parts are rounded with fine finish which gives nice look and feel.
Absolutely first class tying vise, finely crafted, you would want it even if you have few others.
http://www.maier-fazis.de/